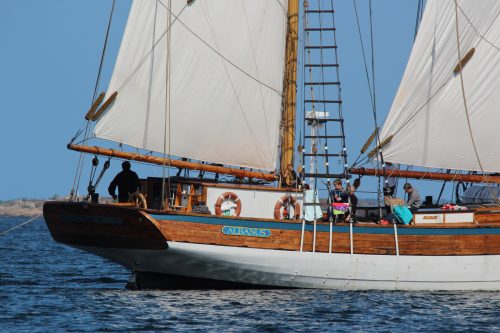 Home waters – a day at sea with Albanus
OBS! This event has already passed.
Have you considered sailing as a trainee during Tall Ships Races or are you just longing for a day at sea? On July 15, you have the opportunity to sail with 20 others on the ship Albanus!
During the day you will learn the basics of how to sail and how to navigate a sailing ship, get to know new friends, take dips in the sea, hango ut on the deck and meet our sponsors and ambassadors. The day will be filled with fun activities at sea, we´ll make sure you have a good time onboard. Once ashore  again after a day at sea, a dinner awaits at land for all participants, ambassadors and sponsors.
This is an excellent opportunity for those interested in sailing as a trainee during Tall Ships Races to learn about life at sea.  Until it is possible to make longer sailing trips, we take the opportunity to sail here at home. Our ambassadors with previous experience of Tall Ships Races will share their experiences during the day. In addition, you have the chance to get to know our sponsors who send out trainees to sail during Tall Ships Races.
Apply for a day at sea if you are between 15 and 25 years old by signing up through the link "sail as trainee". No previous experience is required and the sailing is free for all participants.
We look forward to sailing with you!