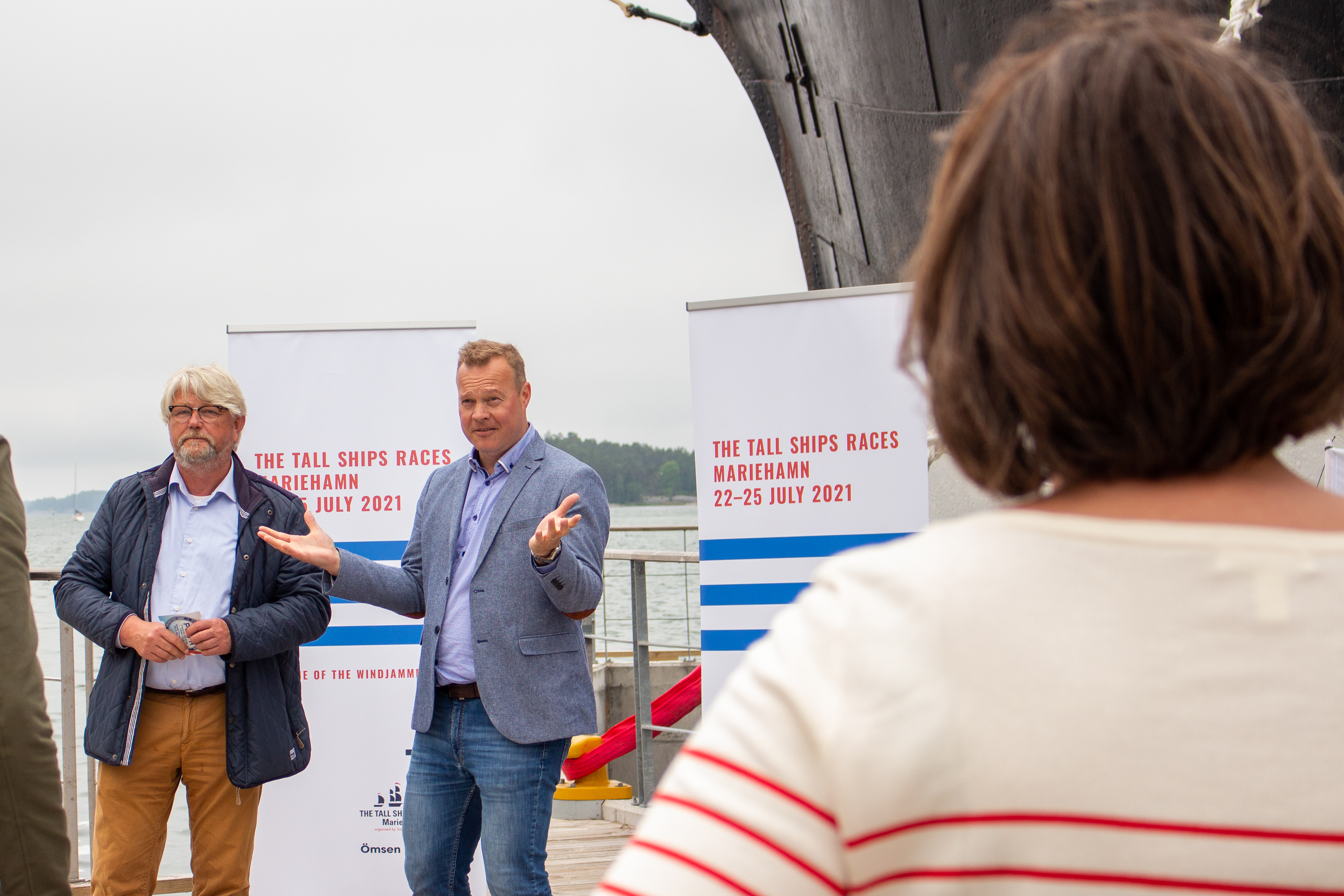 Wow!!!
Today it's just 400 days left until Mariehamn and Åland get to experience something spectacular – The Tall Ships Races arrives summer 2021 and will enlighten our beautiful sea farer town with laughter, party and togetherness during four days!
And it is just that – togetherness – that sets the tone for this event. Sail Training International (STI), the organisation behind Tall Ships Races, has been nominated for the Nobel Peace prize for their work to bring young people together.
Tall Ships Races Mariehamn 2021 also talks about togetherness today. We talk about our sponsors, Ömsen and Alandia, that are working together with us to create a most memorable event for the community, and to help young trainees get on board fantastic ships and create memories for life. We also work together with Ålands Simförening, whom today start their race to swim all the distances in Tall Ships Races 2021! The first run is taken today next to the tall ship Pommern.
We also note that Turku is joining the Tall Ships Races as a host port 2021 – and of course Mariehamn will have a lot of collaboration with Turku. This will be so much fun!
And talking about fun.. How fun is it not to picture 100 tall ships in the Western harbor in Mariehamn?.. And up to 3000 sail trainees stepping ashore to experience Mariehamn.. Let's make sure that we as a society are ready for this, and that we can welcome them all with open arms and give them a great time.
And we are still looking for more collaborations. Or as our project manager, Mari Rosenqvist use to say: "Everybody can tag along!" and "Anybody can come along and earn as much as possible on this event".Vi vill även hitta fler samarbeten.
At Ömsen we are glad to be part of this, and to be able to give our young people the fantastic opportunity to go onboard as Trainees. A more unique experience is hard to find – and one that connects so perfectly to our heritage. We hope to be able, with the whole community on Åland, to be able to create an unforgettable experience for all next summer!
– Stefan Boman
Here is more information from Ömsen about their work with Tall Ships Races. (In Swedish.)
https://www.omsen.ax/om-var-sponsring/tall-ships-races
We are very glad to be able to take part as sponsor for Tall Ships Races 2021, being a maritime insurance company with more than 80 years history and our roots and head office in Mariehamn. We want to cherish the maritime heritage in the Åland community – without that we would not have the prosper society we have today. By taking part in sponsoring this event, we want to bring sailing and maritime life on to the next generation. We hope that all the young people we sponsor as trainees get an unforgettable experience onboard the Tall Ships races ships.

– Jan Limnell
Here is more info about the swim race. (In Swedish.)
https://www.asf.ax/simma-tall-ships-races/