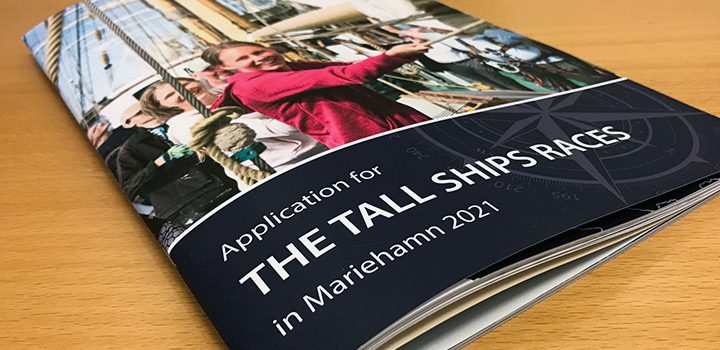 Mariehamn is competing to be "Host Port" when Tall Ships Races is organised in the Baltic Sea region in 2021.
– We decided to create an application that feels personal and welcoming, because that's how we intend for the event to be, says Mari Rosenqvist, project manager during the application process.
The application contains greetings from a variety of Ålanders who welcome the event to Mariehamn and show their support for the project.
– Everyone I contacted was very positive about writing their contribution to the application. This means that we have a nice mix of facts, personal experiences and greetings, Mari continues.
Sail Training International has a number of different criteria when choosing host ports for their events. Perhaps the most important criterion is the long-term commitment of cities to enable young people to experience sailing.
– Together with Albanus, we have explored the possibilities of creating a comprehensive youth sailing project. And now in the spring of 2018, the idea is that Albanus will submit an application for EU funding, says Mari. Whether we become a host port or not, I hope that this project becomes a reality, because it would help our youths so much!
As part of the preparatory work, Björn Kalm and Janne Engblom have been in contact with several companies in Åland to discuss possible sponsorship partnerships.
– Almost everyone is very positive and shows great interest in being involved, says Björn Kalm, who was chairman of the committee for the application. Overall, I am proud of the application and I believe we have a good chance to succeed.
The decision on which cities will host Tall Ships Race 2021 will be made by Sail Training International in March 2018.