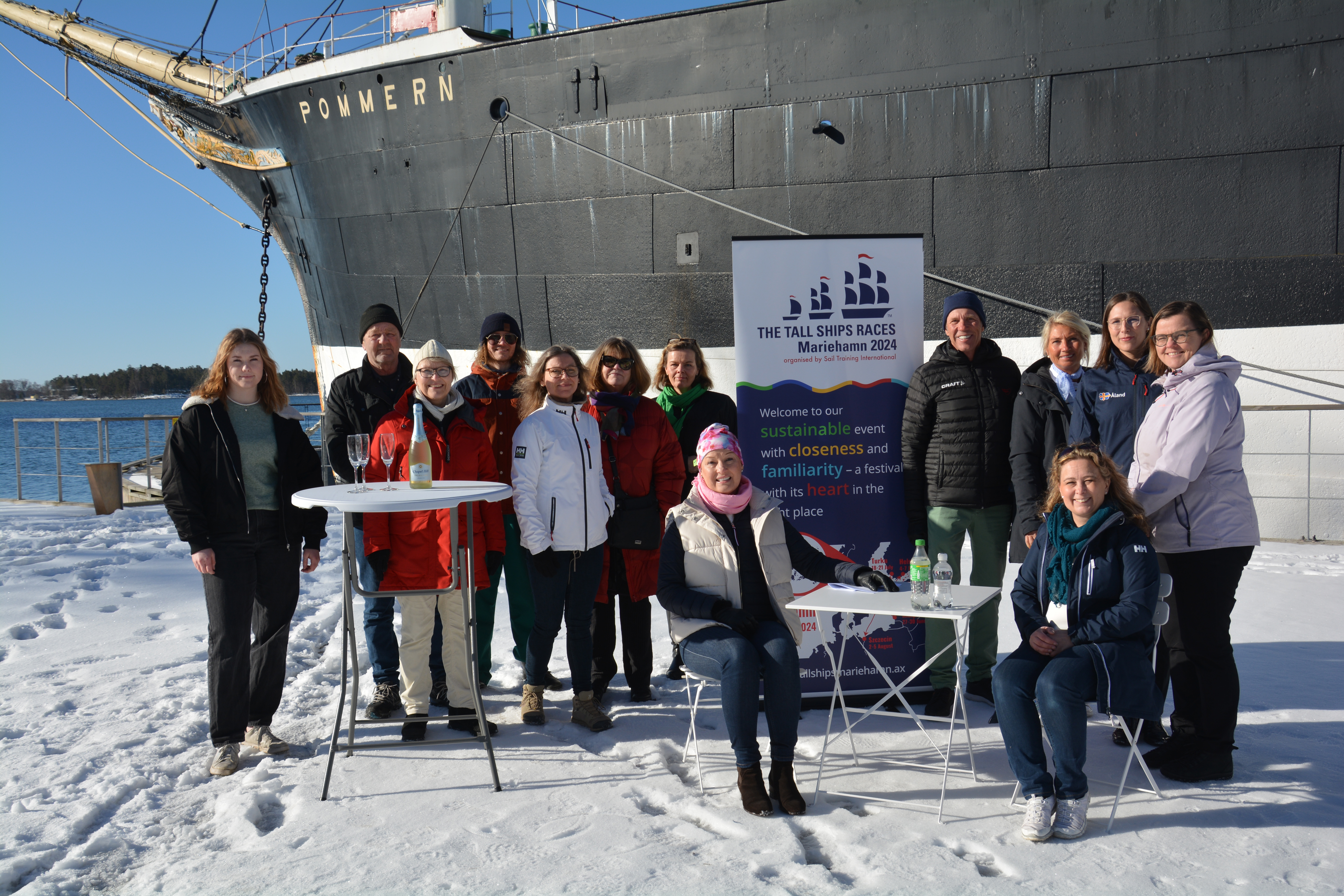 The Port Committée and Executive Committe have been actively planning for the Tall Ships Races Mariehamn 2024 since the fall of 2022. Now is the time to find  all those who want to join the community those who will be contributing to the Tall Ships Races Mariehamn. We need many volunteers, vendors to the event area, sponsors and partners.
– We plan to be welcoming 100 sailing ships, with more than 1000 people arriving as crew and trainees to Mariehamn. For this event we have some advantage from the fact that the ships arrive in Turku and Helsinki first, says Dan Wikingson, Chief Harbor Officer. We, the three Host Ports in Finland, will work together to make it as easy as possible for all participating ships to sail to us, for example with regard to customs and border crossing.
We hope for a lot of happy crowds in Mariehamn during the four days 24–27 July 2024, crew, trainees, volunteers and visitors from near and far.
Join as volunteer
– There will be many different types of events and programs in Mariehamn, so there will be many different tasks to choose from as a volunteer. We estimate that around 300 volunteers are needed, 100 of them have a role as contact person (Liaison Officer) for each ship, says Birgitta Eriksson, Chief Liaison Officer, responsible for recruiting volunteers.
To become a volunteer, you just need to want to join and help! Knowledge in English is needed, and if you are under 18 years of age, a guardian's permission is required. Those already working within the project all have their own area of ​​responsibility and will organize the various volunteer roles within their area. There will be things to plan and do already from this spring, so please fill out the online form for volunteers today if you are interested in joining!
Read about being a volunteer and the online form (information in Swedish)
Traders and vendors wanted
Our goal is to create an unforgettable event by offering visitors food and drink, food crafts, crafts and art, as well as activities and programs for both adults and children. Sail Åland in the summer of 2021 was just a taste of what we could offer. What would you like to sell during the event in Mariehamn? You can book a place for your market stall for 2024 via our online form.
Read about joining as a trader or vendor (information in Swedish)
Åland Tall Ships Club
As sponsors of the Tall Ships Races Mariehamn 2024, you can take pride in helping us make this event possible and that young Ålanders get an experience of a lifetime as trainees on sailing ships. Not everyone has the opportunity to be a sponsor with large sums as the head sponsor or key and support sponsors, so we have added a new opportunity.
– We have a new concept for partners and sponsors. Åland Tall Ship Club, inspired by Harlingen's concept. For a sum of 950 euros (ex. VAT), companies and associations can choose to become members of the Åland Tall Ships Club, says Hanna Hagmark, Fundraising Officer, contact person for sponsors. The membership offers many benefits.
Read about Åland Tall Ships Club and joining as a sponsor (information in Swedish)
Photographer: The Town of Mariehamn. Representatives at the pressrelease april 4th 2023. Standing, from the left: Fanny Engblom (Trainee), Dan Wikingson, Birgitta Eriksson. Dick Harju-Jeanty (ÅSS), Hanna Hagmark, Titte Thörnroth, Johanna Boijer-Svahnström (Viking Line), Tom Borenius, Johanna Borenius, Lotta Berner-Sjölund (Visit Åland), Emma Dahlén (Mariehamns stad). Seated, from the left: Pia Nyberg, Nora Rosenström.